Personal
- I have only fired ONE true AK47 a registered class 3 example owned by a friend, I have owned many versions of the semi-automatic imports and domestic builds available currently. I have owned .308, .223, and several of the standard versions of this rifle in the 7.62x39 chambering. Recoil is mild in the .223 and 7.62x39 versions and manageable in the .308 versions. The standard version is short and easy to produce, for goodness sake this rifle can be made in even the worst third world hell-holes with an automotive hydraulic press, drill press, and a ball peen hammer... by oil lamp light! The rifle is currently artificially over-priced because of government regulation, and high demand. The AK type rifle is arguably the simplest auto-loading rifle to operate in existence. I do regret selling my .308 Mitchell Arms "grandfathered" import, I believe it was the single best made AK type rifle I have ever owned, with the Saiga rifles a distant second.
Function
- Reliability is superb with this series of rifle it will eat the worst surplus corrosive ammunition like a teenage boy will devour ramen noodles. Dirty surplus ammunition will foul the gas system, and as I mentioned before, if not cleaned, corrosive ammunition will create rust along the gas piston tube and lock the rifle up. I have not found a single type of 7.62x39 ammo that would not feed flawlessly in any of the examples I have owned, I have not had a single operational failure with any of my formerly owned examples. Pull the trigger - Bang! EVERY TIME!
Design flaws
- The simple gas system can be "locked in" with corrosion with no maintenance or cleaning (clean the gas tube!). Poor ergonomics and heavy. Marginally accurate.
I had a friend who had not cleaned his properly and had put it away, he came to my house to see if I could help, I looked into the gas tube vent hole and could see that typical "fuzzy rust". I asked him if he had a problem if I broke his bolt attempting to fix it... He looked at me strangely and said if it will get it to open, go ahead... I told him to hold onto the gun on the loading bench barrel up, I then took a scrap of 2x4 and a 6lbs sledge hammer and proceeded (much to his shock) to smack the charging handle with the hammer onto the wood block... IT DID NOT BREAK! and after the first tap and the second good smack it opened up!!! ...
I consider the rifle in standard configuration heavy and somewhat user unfriendly. The safety leaver is awkwardly placed, and the sights and accuracy are marginal. The Saiga with longer barrel in .308 or .223 and trigger work will preform with reasonable accuracy.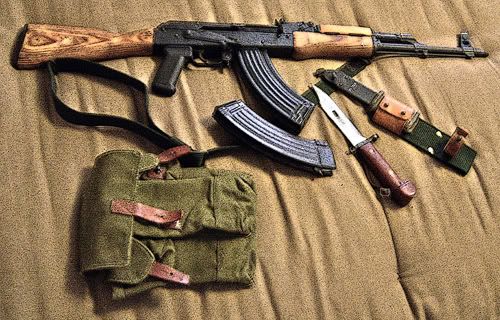 Quality
- All over the map! Some makers better than others, the Saiga and Yugoslav versions the best of the lot. I think it is interesting that even the sloppy third tier versions from Century built on Romanian poor quality parts show that even Century can't screw up Kalashnikov's design!
Caliber/Ammunition
- Available in .308 for an MBR, 7.62x39, .223 and 5.45x39 with all the positive and negative baggage each sized cartridge carries with it...
Use
- Easy to find, hell, like the AR you cannot swing a dead cat and not hit an owner/shooter/dealer of the AK variants. Knowing that a full auto version can be had in places like Pakistan, Syria, and Turkey for less than 150 USD, the import restrictions and demand make this rifle a bit over priced. A wide selection of different versions are available, and attachments, spare parts, along with silly and useless crap pour in abundance from retailers and distributers like copious amounts of digested grass from the orifice of a large cow...
Current production ammunition is available from what seems like an endless parade of retailers, gun stores, and online merchants. (I note that with the current election results it is quickly drying up).
Current Production
- Only swing a dead cat and the proximity to any troglodyte with a welding setup, press, and hand tools and you can have an AK...
Fondness aside, and I do have a fondness for the AK, I personally would consider this rifle a possible primary MBR or secondary choice depending on maker and caliber, the AK cannot be "dressed up" to be anything but ugly, and evil looking... in fact you could not find a better rifle to cause the typical weenie liberal bed-wetter to faint in horror or have any former bully/wimp Cop with a hard on for legal obfuscation for profit and social climbing to want to run you into the hoosegow...