The Gurkha Kukri is a cross, almost a short sword larger than a knife and useful as a small hatchet or machete (although much heavier than a machete).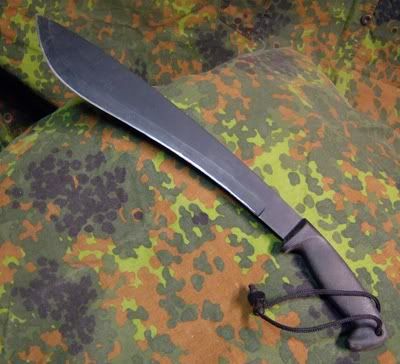 Above is pictured one of my prized knife collection participants, a Blackjack Marauder MK II 15" Gurkha Kukri variant with a custom blackened blade made by Harumi Suzuki of Japan (the original Blackjack knives).
I bought this monster in the early 1990's at a gun show, just as a fluke from Blackie Collins (who had a booth set up with his and other mixed knives). I had known Blackie for years as we both dive and would talk about diving. I bought the Blackjack, a Blackie Collins Wenoka knife and this strange little neck knife for SCUBA divers that Blackie designed he called the Buddy System (the one I have is the first series model).
The only current maker I know of producing a model similar to the Blackjack Marauder is
Cold Steel
with their version of the Gurkha Kukri (I have been warned the Smith & Wesson versions are particularly bad). While I consider the Marauder a great addition to my collection I would not suggest buying such an expensive UTILITY TOOL
there are other great options like the conversion you can see here on M40's pages
. BudK has them for a
low price
ready for modification. (In fact I recommend M40's pages for lots of projects and tips). Contrary to M40s page the Blackjack Marauder MK II is not "just over 1/8 of an inch" but a full 3/16 inch thick (at least the early 1990s versions).
Why talk about this as a tool and then mention a less expensive version?
Because it is a tool, and at a low price it gives you a nice project to work on and you will get a great tool made by hand in most cases out of old leaf springs from trucks (the steel is of good quality as a matter of fact and makes a good blade).
I will be following this with what I have have started using in replacement of this monster - the Cold Steel Norse Hawk or the Hand forged throwing tomahawks or an entrenching tool. Two things prompted this weight and environment, the Blackjack is heavy and the areas where we camp are forested with less undergrowth so a hatchet is more useful than a machete like tool.